The Second League is the highest amateur-football-league in Patriam, and currently the fourth overall level of the Patriam football pyramid. Most of the clubs in the Second League are amateur, though some are semi-professional.
The Second League began in 1907 as the second football league in Patriam. Since 1989 it is divided into 4 different leagues.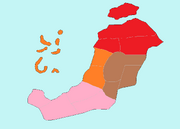 There are four different Second Leagues:
Promotion to First League
Edit
After the season the numbers one of each Second League compete with each other and the numbers 11 and 12 of the season of the First League to determine the two clubs who will participate in the next year's First League. There are two groups of each 3 clubs, of which the two best will participate in the next First League.
Ad blocker interference detected!
Wikia is a free-to-use site that makes money from advertising. We have a modified experience for viewers using ad blockers

Wikia is not accessible if you've made further modifications. Remove the custom ad blocker rule(s) and the page will load as expected.